3 Minute Read
Embracing the Fully Remote Work Environment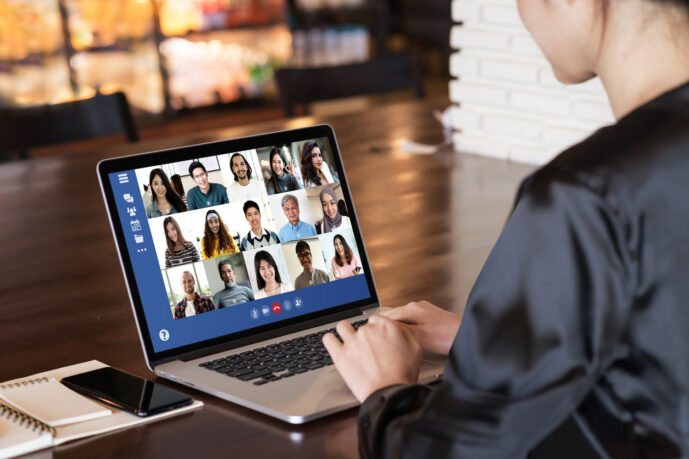 In March 2020, when the pandemic hit, CRIO was only 14 people in a small office in Cambridge, MA. Today, we employ 65 people operating virtually, all over the U.S. and increasingly, the world. While most companies returned to an office or hybrid environment, we didn't. We decided to commit to a fully remote work environment.
Running a virtual company is challenging and largely uncharted. But, just as we're innovating with our product strategy, we're innovating with our people strategy. Here's why we went virtual and what this means for our corporate culture.
Why did we go virtual?
In a word, for the talent. By being virtual, we are not limited to recruiting people from within a geographic region, or requiring talented individuals to relocate. We can post an opening and have hundreds of applicants within days. And many employees truly appreciate a full work-from-home environment, making us an employer of choice. Our mission is ambitious, so we need the best possible workforce to succeed.
How do we make it work? It boils down to a few key principles:
Hire right
We need employees who are self-starters, who are intrinsically motivated to perform well. We have to screen for initiative, self-drive and passion. Sometimes we get it wrong – not all employees can succeed in this environment. But we need to learn from our mistakes and continue to refine our judgment and develop early reads on new applicants.
Invest in learning and development
Historically, organizations have relied on an office grapevine to promulgate shared values and practices. In a virtual environment, we have to formalize all of these rules, and that means standardizing around a set of tools and practices for meeting and working together.
More broadly, we need to invest in Learning & Development so we can ensure our employees have a common core of knowledge on our industry, our product line and our mission. We also invest in continuous learning, so that employees can learn from each other, round out their skills, and improve their own productivity. For us, "training" is never remedial – to the contrary, it's an enabler for top performers, who are intellectually curious and self-driven.
Instill a performance and accountability culture
We must be a performance-first culture, and we can only measure performance by output, not input. We do this through a detailed career ladder system, where each level in every major role has a formalized set of expectations, with regular performance feedback. Our feedback is 360 – we especially value the anonymized feedback of team members, who often have unique line of sight on the true performance of their peers. All of our managers participate in monthly "Power Hour" sessions for leadership training, where we focus on different themes, such as how to give actionable feedback, how to run efficient meetings, or how to handle difficult conversations.
Invest in engagement
Without an office, it's hard for employees to develop organic personal relationships; in our engagement survey, we tend to lag in metrics focused on friendship and personal connection.
As a result, we've launched and experimented with multiple initiatives to encourage and promote engagement and belonging. We've had large success with shared interest groups, especially on Slack. Today, we have 18 different community interest groups ranging from our gardening group to our monthly book club. CRIO operates its community groups through Everyspace, an internal social media platform that manages our events, company newsletters and group membership.
We're also sure to celebrate each other's victories and contributions. Our criocheersforpeers Slack channel often lights up with peers taking time to recognize their team members' heroic contributions; these public feedback messages roll into the holistic review process.
Celebrate our diversity
Our employees thrive in an environment where there is high implicit trust and focus on performance. While the office environment had its advantages, it also had its dysfunctional qualities. Office politics, gossip, and/or a face-time culture can be alienating to people with family commitments, introverts, women, minorities, etc. At CRIO, our culture enables a true range of individuals with different work styles, personalities, ages, and life commitments to be effective and collaborative. CRIO's Senior Director of People, Jennifer Beattie, for instance, talks about our flexibility and how it accommodates her own work-family balance. 
What's next?
Our journey is just beginning. We are in uncharted territory, and we want to prove the many skeptics wrong. We will continue to innovate and improve until we become a model workplace of the future.