6 Minute Read
Data Blast from the Past: From Triplicate to eCRF
Jonathan Andrus, President & COO at CRIO, is an active thought-leader and presenter in the life sciences industry. He serves on the board and executive committee of the Society for Clinical Data Management (SCDM) and is co-lead with the Decentralized Trials and Research Alliance (DTRA) workstream initiative.
The year was 1996 – the year that I started in clinical research. Over 27 years later, clinical trial data collection methods have not changed dramatically. Essentially, it remains the same. The evolution of protocol data collection, for the most part, has never addressed the core of the problem. Today, the industry has a unique opportunity to take advantage of existing data sources at sites, reduce burden on site personnel, and ultimately leverage that data for submission purposes.
1990s/2000s
My first role in the industry was as a clinical data coordinator (CDC). I was responsible for taking the clinical trial protocol and designing and developing case report forms (CRFs) to collect data from clinical research sites. These CRFs were sent to the sites, who were then expected to take the data collected from patients during their visits and re-enter this information onto the CRFs. However, these CRFs were structured from the perspective of data management and statistics.
Ultimately, with sponsor-developed CRFs, the focus will always be on what the sponsor is trying to demonstrate – primary/secondary/safety – not with research workflows. Most of the time, these CRFs were then printed on three-part, no carbon required (NCR) paper. These were typically color-coded white, pink and yellow.
How did data eventually make its way into a relational database?
Once the patient visit was completed, the study coordinator transcribed the information onto the three-part NCR paper. This was placed into a specific binder for the study. This paper CRF remained in the binder until the clinical monitor or clinical research associate (CRA) visited the site. During the site visit, the CRA reviewed the completed CRF against both the completion guidelines and verified against site source. Any required corrections were done at the time of the CRA visit by site staff. The CRA retrieved the yellow and pink portion of the three-part NCR, and carried this information back to the office.
Once received at the office, the yellow copy went to the data entry department. Pink copies went into the sponsor/CRO managed study files. Data entry specialists then double-data entered the yellow copy.
2000s to Today
The three-part NCR slowly went away and out of that emerged remote data entry (RDE)/remote data capture (RDC) systems. These later became known as electronic data capture (EDC). At the heart of EDC, things haven't changed much. Sites still capture data elsewhere, such as their own eSource solution or paper charts, with portions in electronic medical records (EMR). This data is then transcribed into a sponsor provided EDC solution, days or even weeks after the patient visit. The biggest change is that sites are now responsible for data entry and transcription.
Unfortunately, sites now have to learn and work within inefficient systems selected by sponsors to collect data on their behalf. Different logins, workflows and query processes – no other role in clinical research is forced to work in systems that they had no say in selecting. Moreover, EDC systems are data management-driven. They are developed and managed without understanding the site's workflow requirements or unique needs.
So, while it is true that white, pink and yellow NCR paper isn't being hand carried by monitors back to sponsors, all the industry has effectively done is transfer the burden of data delivery to the sites through EDC entry. Paper CRFs are literally just electronic CRFs, and the burden of double data entry is the same.
What is the alternative approach?
What if you could tap into a network of nearly 2,000 research sites that are already technology enabled, patient-driven, quality-minded and leaders in diversity, equity and inclusion? Better yet, what if you could harness the data that these sites are already collecting, without requiring an additional data collection tool (including home health care providers and other nontraditional players, like pharmacy chains)?
Stop forcing unnecessary and expensive technology on sites
Many research sites have already embraced technology to run studies and collect data. Sponsors can use this technology to review and monitor data that is already being collected. However, many sponsors spend countless hours and massive amounts of money on third-party tools that require sites to re-enter data they've already collected. In fact, sites are the only users in the entire research process that have no say on the technology they use in their day-to-day job.
Protocol-driven eSource
Using CRIO, sponsors and CROs can define study-specific eSource templates that are derived directly from the protocol. These are ordered in accordance with the schedule of assessments. These CRIO eSource templates form the basis of what is then pushed out to sites to collect protocol compliant data. Sites are still able to create and include their own site-specific procedures in addition to what the sponsor provides.
This approach ensures a protocol compliant collection of data at the time of the patient encounter. It also includes real-time validation checks to interrogate the data at the time of entry. This leads to better quality, fewer post data entry queries, enhanced protocol compliance, and a host of process efficiencies. This allows sites more time to focus on the critical aspects of the trial, such as recruitment, retention, patient follow-up, and study drug accountability.
Sites using CRIO perform better
With 2,000 sites using CRIO eSource across nearly 5,000 active protocols, CRIO has a substantial database to quantify the impact on site performance. Our case studies and quantitative research prove that sites can reduce protocol deviations by at least 40% and lower the risk of a negative FDA audit finding by 70% when using CRIO. Additionally, we have demonstrated that sites that use CRIO outperform non-CRIO sites in enrollment in 2 out of 3 trials, with a median outperformance of 40%. And finally, across the entire CRIO site network, we are observing racial diversity that is twice the industry average.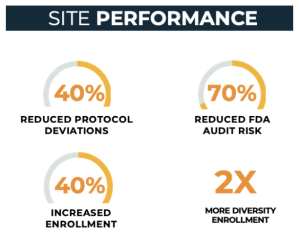 Data review and management
CRIO's system automatically sends site eSource data directly into a sponsor-facing application – CRIO Reviewer EDC (eSource/Direct Data Capture) – which enables the clinical team to review data remotely. Thanks to built-in edit checks at time of capture, the data is more likely to enter the system in an accurate and complete state. And because the eSource is now effectively the same as the eCRF data, traditional onsite monitoring or source data verification is eliminated.
Within this framework, sponsors and CROs should embrace a centralized clinical data monitoring approach. Significantly, this provides a single, primary workflow for clinical oversight and review of data as it is entered. In this workflow, monitoring teams can:
review data
issue and close queries
track source data changes
lock data,
medically code verbatim terms
This greatly streamlines the data review and management approach without the need for further redundant review. The figure below depicts how the traditional five workflows can be reimagined into only two.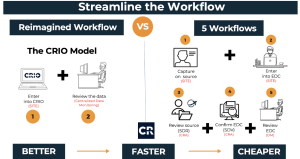 What lies ahead?
So, while the industry has made progress from the days of triplicate paper forms, it has not closed the loop and become truly electronic. Fortunately, thanks to the innovation of forward-thinking sites, sponsors and CROs don't have to reinvent the wheel.  Sponsors and CROs can take advantage of systems and tools that are already in place within their own research sites. This is a step towards removing redundant and inefficient systems and processes. The continued use of these antiquated models create significant waste and cost on both sponsors and sites. This distracts resources from the critical tasks of patient recruitment and retention. Sponsors need to reimagine the clinical trial process and leverage what is in plain sight:
CRIO's dual approach of addressing the needs of sites and sponsors creates value for both stakeholders, reducing the number of redundant and administratively burdensome systems forced on sites and driving efficiencies in cost and time.
Sponsors don't have to invent a new process. Instead, they can use a process that is already available and in plain sight. It's not a challenge of invention, discovery or even innovation; it's a challenge of re-imagination!
Our team would love to give you a walkthrough. Schedule a demo to explore CRIO.