4 Minute Read
It's not about DCT – Diversity Driven Clinical Trials are the Key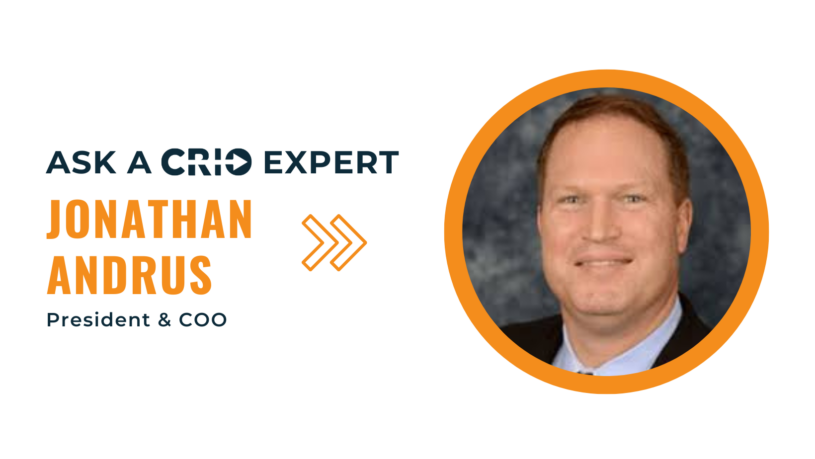 ASK ME ANYTHING WITH JONATHAN ANDRUS
Jonathan Andrus, President & COO at CRIO, is an active thought-leader and presenter in the life sciences industry. He serves on the board and executive committee of the Society for Clinical Data Management (SCDM) and is co-lead with the Decentralized Trials and Research Alliance (DTRA) workstream initiative. In this week's expert advice round-up, Jonathan discusses the future of diversity-driven clinical trials (DDCs) and the global regulations shaping the industry.
WHAT RECENT TRENDS HAVE YOU SEEN IN CLINICAL TRIALS?
One of the biggest trends is patient-centricity – a vital trend because patients are the most important part of clinical research. It's also pushing organizations to find and retain patients from diverse backgrounds and locations. This diversity-driven decentralized paradigm, initially fueled by COVID, is here to stay. However, decentralization requires alternative approaches, such as at-home visits and partnering with research-naive sites.
To increase diversity throughout clinical trials, sponsors may need to tap into non-traditional sites and embrace new approaches, both of which will become driving forces behind an exciting new paradigm. Also on my radar are large retail stores that have begun to utilize their pharmacy operations as an extended clinical research site, as well as local community pharmacies that offer access to more diverse patient populations.
WHAT ARE DIVERSITY-DRIVEN CLINICAL TRIALS (DDCs) AND ARE THEY THE FUTURE OF CLINICAL RESEARCH?
Yes, they are the future. With DDCs, it's all about nurturing and providing flexibility. While some studies might be completely virtual this will be the exception and not necessarily the rule. Most of the time DDCs will be hybrid or have solutions and systems that are highly flexible. This allows sponsors to select different elements for studies to reach the most diverse set of patients. Again, flexibility is key. This could encompass wearables, eCOA, Telehealth, home nursing visits, non-traditional sites (retail stores, pharmacies), and traditional site-based data capture.
HOW ARE GLOBAL REGULATIONS AFFECTING THE CLINICAL TRIAL LANDSCAPE?
I have close relationships with regulators from the US FDA, German, and Danish health authorities, as well as the UK health authority, MHRA. Many of these regulatory agencies are publishing guidelines for conducting diverse or decentralized clinical trials. In the Decentralized Trials Research Alliance (DTRA) working group that I co-lead, we recently conducted a survey asking industry stakeholders about regulatory roadblocks encountered when conducting clinical trials with decentralized components. Across the board, respondents indicated that they had not encountered any substantial roadblocks. They simply informed regulatory authorities about their strategy and mitigation plans, and all received approval to move forward with that approach. From the regulatory response, what's most important is adhering to GCP. Adopt the tools that are best suited for your trial and ensure that they are compliant with regulations.
HOW ARE LIFE SCIENCE COMPANIES FINDING OUT ABOUT THESE NEW TECHNOLOGIES?
Social platforms, primarily LinkedIn, webinars, trade shows and conferences, are the most common channels for uncovering new technologies. CRIO uses public relations and strategic marketing to increase awareness around our owned assets, such as our website. Our event calendar also includes several 1:1 opportunities with prospective clients where we deliver more tailored experiences. Trade shows and conferences are essential networking opportunities. Sponsors will often seek the opinions of their peers about certain vendors, or to better understand innovative solutions like CRIO Reviewer EDC (eSource/EDC) and CRIO's one-of-a-kind EMR integration. These channels are all essential to having value-added conversations about the industry.
ARE THERE ANY LIFE SCIENCE COMPANIES THAT ARE LEADING THE CHARGE FOR NEXT GENERATION CLINICAL TRIALS?
Part of the challenge is that there is no such thing as a "one-stop-shop." For example, a typical Phase 3 clinical trial has 15 – 25 separate vendors running on that study. My knowledge of sponsor challenges led me to CRIO, an innovative site-based eSource software company. I believe that CRIO is part of the evolution of the clinical trial process. CRIO's enterprise-grade solution champions interoperability, diversity, and enables quality tools for both sites and sponsors. CRIO's site-based eSource technology is the bridge that connects these systems together.
CRIO is embedded in many diversity-enabled and non-traditional site environments, including use in home-based visits and retail pharmacy locations. The system leverages the data already collected by the sites and surfaces it for sponsors. This eliminates double-data entry for sites, reduces protocol deviations and relieves sites of other administrative burdens associated with the trial. CRIO eSource has already been adopted by over 2,000 clinical research sites in 19 countries and in nearly 7,000 clinical trials worldwide. Many of your own sites are probably already using the system.
HOW IS CRIO ENABLING DIVERSITY IN CLINICAL TRIALS?
CRIO is focused on enabling clinical trial data collection with a diversity-driven focus. The CRIO application, which includes recruitment, patient stipend management, CTMS, eRegulatory and eSource, empowers traditional and non-traditional sites to expand patient recruitment among a more diverse patient population.
FROM YOUR PERSPECTIVE, WHAT IS ONE PIECE OF ADVICE FOR LIFE SCIENCE COMPANIES RUNNING CLINICAL TRIALS?
Be creative with your study design. Meet with potential vendors as early as possible to explore how their tools can be used to address inclusion, diversity, and non-traditional study designs. CRIO's mission is to deliver a modern, intuitive, and integrated software platform that reimagines clinical trials for quality, speed, and patient-centricity. CRIO encourages research professionals to embrace tools designed to enable expedient and diverse patient recruitment that ultimately accelerates new therapies to market.