1 Minute Read
How Research Sites Can Win with Decentralized Trials – Part 1 – Remote Feasibility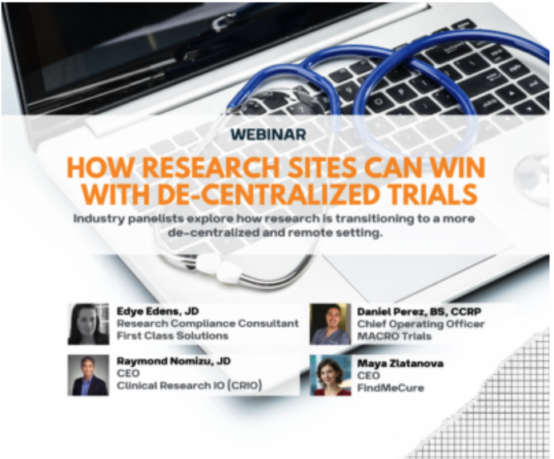 The last twelve months have been a year of unprecedented and transformative adaptation in clinical research. In this 7-part webinar series, industry experts share their collective reflection on decentralized trial modalities and their role in advancing the research of tomorrow. From e-Consent forms to remote patient monitoring, technology will continue to support this process. Sourcing and vetting new vendors and staying on budget are among the challenges ahead, but one overarching question remains – how can research sites win with de-centralized trials?

From the lifecycle of a remote clinical trial to effective feasibility and planning, patient recruitment, regulatory compliance, and continuity of operations, this is one energetic and spirited conversation you won't want to miss.

Topics covered over the course of 7 sessions include:
Part 5  – Regulatory Compliance
Part 6  – Continuity of Operations
Part 7 – Leadership & Technology
Panelists
Raymond Nomizu, CEO & co-founder, Clinical Research IO (CRIO) – a site-centered eSource and CTMS solution
Edye T. Edens, Senior Research Compliance Consultant, First Class Solutions
Daniel Perez, COO, MACRO Trials – a Site Optimization Organization (SOO)
Maya Zlatanova, CEO, TrialHub
And this is only the beginning. Up next? How Research Sites Can Win with De-centralized Trials – Part 2 – Patient Recruitment.