2 Minute Read
The results are in: CRAs love CRIO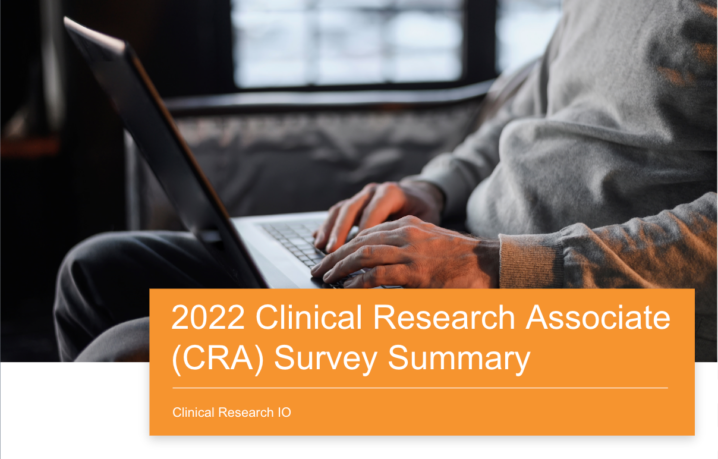 Over 13,000 protocols have gone through the CRIO system, and in the vast majority of them, CRAs have used CRIO to monitor source. We've always heard from our sites that their CRAs love the system, but now we have proof. According to a third party survey of CRAs who have used CRIO, by a healthy margin, CRAs agree that our system elevates the performance of the site, the CRAs themselves, and the study sponsors.
About the survey
CRIO retained a third party market research firm to conduct a web-based survey of Clinical Research Associate (CRA) users with recent logins to the CRIO system. The firm solicited participation from 03/16/2022 to 03/30/2022 to an anonymous web survey. The survey received a total of 79 responses. All users were assured of anonymity, and CRIO did not have access to the identifying information of any respondents.
Overall, the survey garnered excellent feedback from CRAs who use CRIO. In our survey, we asked if CRAs agreed or disagreed with various statements.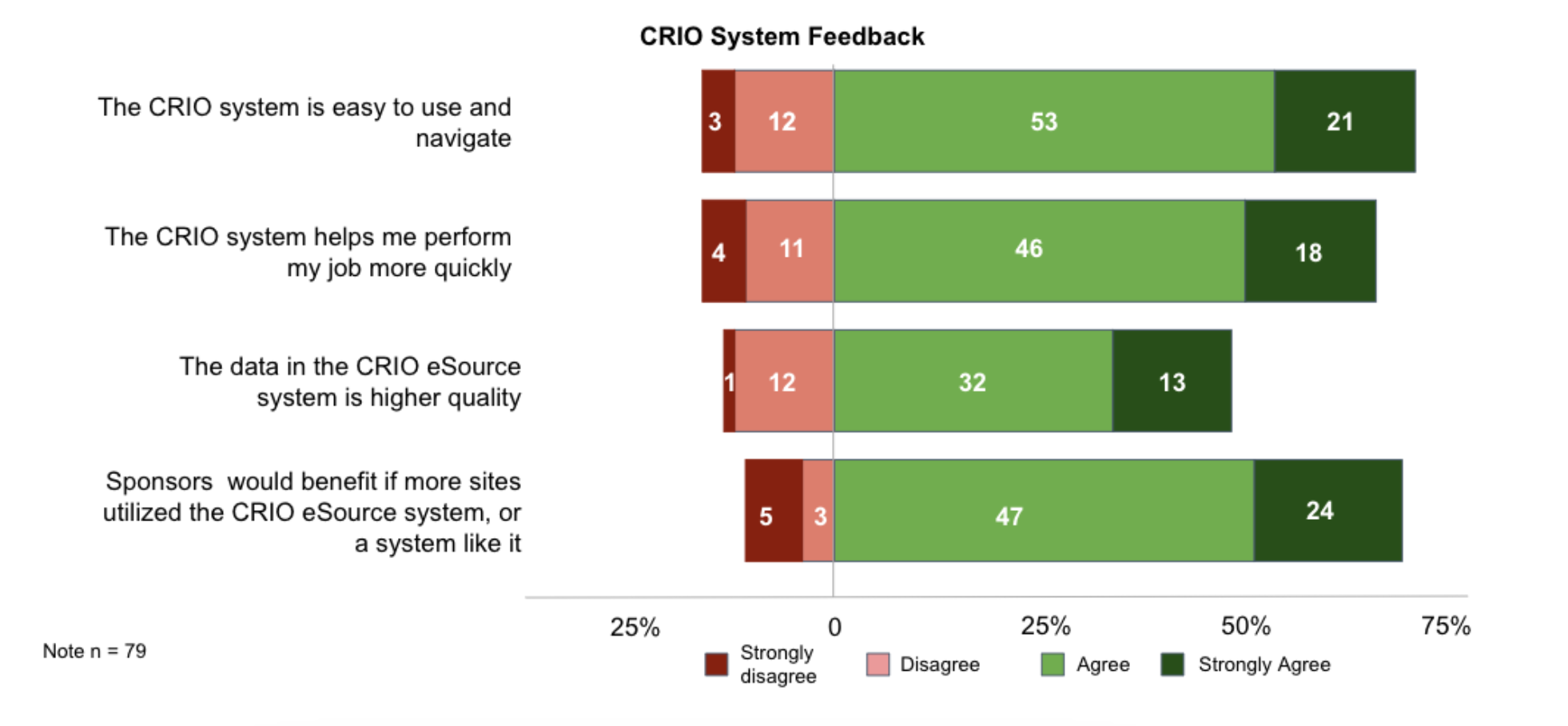 Here's what the CRAs said:
Sponsors would benefit if more sites use CRIO (9:1)
By a 9:1 margin, more CRAs agree than disagree that sponsors would benefit if more sites utilized the CRIO eSource system or a system like it.
CRIO's system enables sponsors to collect high quality data and ensure patient safety. This is because the system is designed to enforce protocol compliance at point of capture through edit checks and other automation features. Read our findings on how CRIO reduces protocol deviations by 40% and FDA audit risk by 70%.
CRIO is easy to use (5:1)
By a 5:1 margin, more CRAs agree than disagree that CRIO is easy to use and navigate.
CRAs find our eSource system extremely intuitive and require very little training to start using it. An eSource that is easy to navigate allows them to find data quickly to issue and close queries, thus being more productive.
CRIO increases efficiency (4:1)
By a 4:1 margin, more CRAs agree than disagree that CRIO allows them to perform their job more quickly.
With eSource, CRAs have all study documents available to them from anywhere in real time. This is why our survey responses cited CRIO as the most commonly used tool for remote monitoring. With remote monitoring, CRAs can save valuable time without having to travel, and can increase their efficiency in the comfort of their home office. They can find source data quickly and issue and close queries without needing to flip back and forth through paper binders.
CRIO sites produce higher quality data (3:1)
By a 3:1 margin, more CRAs agree than disagree that the data in CRIO's eSource is of higher quality.
CRIO's eSource is built to provide a logical workflow for coordinators to conduct each visit. Sites can configure every question with instructions and built-in alerts that will immediately catch entry errors, protocol deviations, and possible adverse events indicated by out-of-range values. CRIO's eConsent integrates with eSource so that the ICF version tracking triggers re-consent in the eSource itself. In addition, the audit trail is automatically generated every time data is changed after saving. This provides a blueprint behind the visit for CRAs to review. CRAs thus gain more insight into what is happening at each visit.
Ultimately, CRAs' positive reviews of CRIO reflect better experiences by sites who use CRIO and sponsors of those sites. A smarter and easier eSource system optimizes workflows for everyone to recruit more patients, conduct more visits, and generate better quality data.