4 Minute Read
Industry experts counsel on staffing models, patient recruitment and remote monitoring in the new normal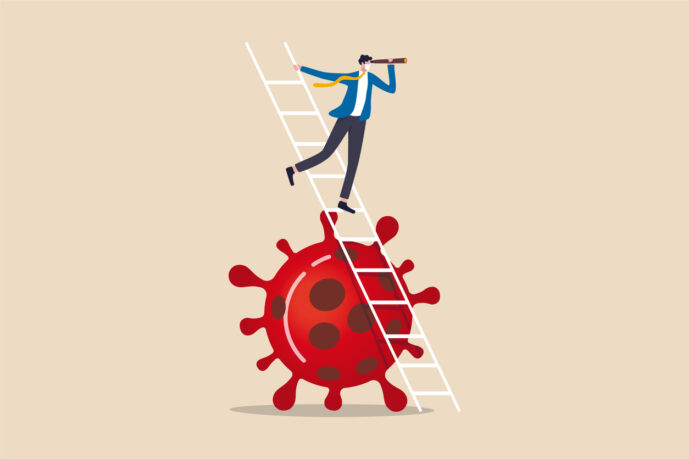 According to the latest survey by Clinical Research IO, clinical trials have largely re-opened. While we should remain optimistic about the restart, Dr. Lindsay McNair, Chief Medical Officer of WCG, reminds us that "we are not post-COVID in many ways." Given that clinical trials will have to take place amid the ongoing pandemic, "we should look at the issues of today and look forward to what the future of clinical research will look like."
Reopening
Although sites are keen to ramp up trial activities, Dr. Christina Brennan, Vice President of Clinical Research at Northwell Health, urges sites to carefully think about how to restart or reopen. In her discussion, Dr. Brennan highlights the importance of recognizing limitations and explains that sites may not need to re-open all studies at once.
Consider the following factors:
Does your site have enough staff?
Will some staff continue working remotely? Or will all staff work on site?
Does your site have enough resources?
Think about space. How are you going to take advantage of the space you have and minimize the movement of people around it? If you are running COVID trials, how will you minimize the movement of COVID patients and keep them away from healthy, non-COVID participants?
Staffing
When COVID first reached the United States, sites quickly modified and adjusted their staffing models to comply with social distancing and stay-at-home requirements. Although many were able to implement creative solutions for staffing (e.g., rotations of staff, having a remote team and an on-site team), others had to furlough or let go of site personnel for a variety of reasons.
As we operate in the new normal for clinical research, sites will likely be tackling both COVID and non-COVID studies, and this will continue until a vaccine or treatment is developed. In order to conduct study visits and see enough patients, sites will have to once again, re-adjust site staffing models. Erika Siegrest, Director of Research Administration at the Anne Arundel Medical Center (AAMC), suggests that we learn from sites that are currently working on COVID trials.
According to Siegrest, sites that have been conducting COVID trials have designated a specific group of coordinators and investigators as their 'COVID contact team'. Only this specific group may interact and conduct protocol mandated visits with patients that have tested positive for the virus. By creating such a group, the site reduces the chance of exposure to other staff members. Site personnel that were working on non-COVID trials also shifted focus to supporting the COVID team by handling duties such as data entry. Because this workflow has proven to work well, other sites should consider adopting this multiple team approach to clinical research.
Patient recruitment and retention
One of the challenges in research, even before COVID, is clinical trial recruitment and enrollment. While individuals often express interest in a study, interest does not always translate into participation and often results in the doubling of study timelines. As we continue to navigate this public health crisis, Molly Hair of WCG, explains that recruitment will continue to be a difficult issue and will likely be more challenging than before.
To overcome some of the difficulties with patient recruitment and retention, Ms. Hair recommends that sites:
Partner with clinicians and discuss clinical research as a care option.
"Keep patients warm and informed." This means re-engage with your patient database. Take the time to let participants know when studies will restart and answer any questions.
Address COVID-related apprehension. Educating participants on the precautions your site is taking (e.g., PPE, physical barriers put up, patient transportation systems, limits on number of people on site, temperature checks) will be key.
Remote monitoring
To maintain oversight of studies during the height of the pandemic, most sponsors and CROs implemented some form of remote monitoring (e.g., phone calls to discuss EDC entries, scanning and email/fax/overnight of source documents for source data verification). As sites re-open, they will have to determine whether they will allow monitors to come back on site.
Siegrist has started to allow some on-site visits, but explains that this is because Anne Arundel Medical Center is a large facility and is primarily empty. She then goes on to say, "I would rather monitors come here now… while the majority of staff are not in the building." For any monitor that does come on site, they are screened daily for symptoms and must sit by themselves.
Dr. Brennan, whose site is based in New York, is still not allowing CRAs to complete monitoring visits on site. Her decision was made in concordance with New York state guidelines, which says that any individual that has travelled from one of 16 states (determined to have high community spread) must quarantine for at least 14 days. When monitors request to come on site, Dr. Brennan screens them for travel history and many have visited one of the states. As monitors travel frequently, Northwell has elected to continue remote monitoring visits.
In deciding whether to permit on-site monitoring visits, the experts advise sites to consider unique state guidelines, the amount of available space at your site and the number of people that are working on site.
As the clinical research industry moves forwards, Molly Hair offers the following advice to trial sites:
Embrace innovative ideas. Always be thinking about ways to grow.
Embrace remote study visits because remote is the new frontier.
Embrace services and support provided by sponsors. Sponsors are actively looking for ways to provide tools and services to support sites. Reach out to them if your site needs something.
Panel Members
Dr. Christina Brennan, Vice President of Clinical Research at Northwell Health
Erika Siegrist, Director of Research Administration at the Anne Arundel Medical Center
Molly Hair, Director of Site Engagement and Management at WCG
Dr. Lindsay McNair, Chief Medical Officer at WCG