2 Minute Read
Navigating Medical Records Acquisition in Clinical Trials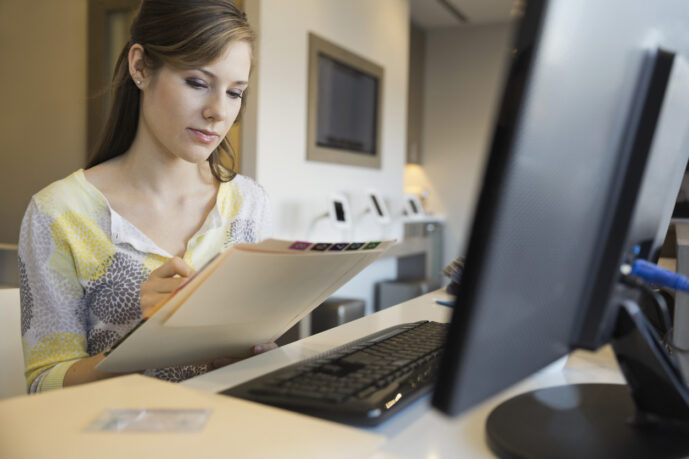 Navigating medical records acquisition in clinical trials is a time consuming challenge faced by clinical research sites. Electronic Health Record (EHR) systems play an integral part in this process, serving as critical repositories of patient data. Yet, the lengthy process required to access these records often complicates the patient screening process. Subsequently, this impacts enrollment timelines in clinical trials.
Establishing Patient Eligibility
EHR systems contain essential information regarding a patient's medical history, helping to establish their eligibility for trials. Principal Investigators (PIs) use these records to evaluate potential participants' medical conditions, medications, procedures, allergies, and other relevant data. Their objective is to ensure that the individual's participation in the trial aligns with their ongoing care journey and safeguards their health.
During the screening period – typically lasting between two to six weeks – site staff laboriously gather the medical records. If the potential trial subject is a known patient, obtaining their records is straightforward. After acquiring a study-specific medical release, staff can print the records and file them in the source binder.
However, complications arise when the subject is not a patient of the site or if they have data from multiple institutions. In these situations, the site staff needs to procure a medical release form and submit it to the other provider. This process can often be time-consuming, taking several weeks and necessitating multiple follow-up calls to monitor the progress. 
Screen Failures
PIs often find themselves making additional calls to cross-check medical records against the subject's self-reported data. At times, these records might reveal previously undisclosed conditions that make the subject ineligible for the trial. These 'Screen Failures' point to a missed opportunity for proactive identification and prevention of unnecessary procedures.
This cumbersome, drawn-out process emphasizes the urgent need for streamlined mechanisms to access and exchange medical records in clinical trials. Delays not only waste precious resources but also risk the safety and health of trial participants. It is critical to develop solutions that prioritize the swift and accurate sharing of patient information, ensuring trials can proceed efficiently and effectively.
The Solution
In the era of digital technology, several strategies could be employed to overcome this hurdle. CRIO has developed an innovative solution for EHR integration, partnering with Pluto Health. This integration embraces the latest trends in interoperability and patient-centric healthcare. It provides an efficient method for incorporating electronic medical record data into the Principal Investigator (PI) workflow, honoring patients' control over their records while also offering crucial health recommendations. Instead of directly transferring data, which could duplicate data quality issues present in EHRs, CRIO's approach consolidates data from multiple EHRs into a single record. It also includes a recommended care journey for future reference, facilitating the PI's assessment and reconciliation process. Because this process is automated, it saves site staff from making repeated calls and doesn't require a human response from the facility that has the EHR.
To sum up, while the acquisition of medical records in clinical trials presents a formidable challenge, innovative technology-driven solutions have the potential to simplify this process. Efforts in this direction can ensure that clinical trials proceed smoothly, maintain participant safety, and ultimately contribute to advancements in medical research.
Schedule a demo to explore how CRIO's Medical Records API simplifies patient electronic health records collection for clinical trials.
Discover More: https://www.youtube.com/watch?v=hyq9WEYhrKo
Download the full white paper: Health Information & Clinical Research Integration: The Challenge
Read More: Addressing the Challenge of Inaccurate and Incomplete EHRs in Clinical Research